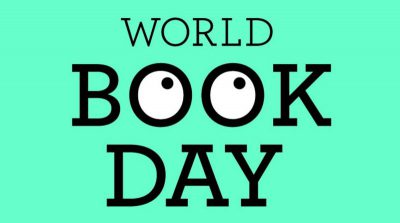 World Book Day
Fancy Dress/Pyjamas
Thursday 2nd March
As part of our celebrations for World Book Day, the children can come to school dressed as a book character or dressed in their pyjamas/ onesies on Thursday. The reason for pyjamas is to focus on the importance of bedtime stories and reading at night.
Some children may however just want to bring in a prop relevant to a book they have read.
'You read a book where?!' competition.
The teachers have been busy taking photographs of themselves reading in interesting places.
It is now the turn of the pupils to bring in a photograph reading in an unusual / interesting place.
 Prizes will be given to the most interesting photograph submitted from each class.
World Book Day £1 Token
Every child will receive a £1 book token allowing them to get a free £1 book or to get £1 off any book or audiobook costing £2.99 or more.
 Tokens can be redeemed at thousands of independent bookshops, Waterstones, WH Smith, Asda, Morrisons, Sainsbury's & Tesco stores nationwide. Find your local bookseller at booksellers.org.uk/bookshopsearch
Book Swap
On Thursday 2nd March each year group will be holding a book 'Swap Shop' in their year group area.
 When children donate a book, they will receive a voucher. They will then be able to exchange this for a book of their choice.
Reading Buddies Story time
Throughout the week, children in the junior building will be visiting the Infant building to read stories together. The children are very excited about this.