Student Council
Policy
Download: School Council Policy 2023-2024 [PDF]
---
Our school council is a group of children who represent the views of all our pupils. It gives our children the opportunity to have their voices heard and be part of the whole school community. Councillors help to make decisions about school life and organise projects that support learning and development, such as organising charity events, theme days or representing the school at outside events.
We value the opinions of our pupils and our School Council gives pupils a forum to share these opinions with our School Council teacher representative, Headteacher and other members of staff.
A new School Council is elected each year and is made up of 2 representatives from each class from Year 1 to Year 6. All school council representatives are elected democratically by their peers at the beginning of each academic year.
Our School Council aims to encourage our children to:
Develop confidence and responsibility and make the most of their abilities
Prepare them to play an active role as citizens
Develop healthy, safer lifestyles
Develop good relationships and respect the differences between people
To have a "voice" and to share their opinions and ideas with others
Through our School Council, it is hoped that we will enable pupils with positive attitudes to exert a positive influence.
We have amazing children in our school who have lots of great ideas on how we can work together to make a better school. They work hard and like to get involved as much as possible.
The School council consists of 2 children from each class, Year 1- Year 6 who meet weekly, sometimes in year groups or Key stages and occasionally as a whole School Council.
School council aims:
To meet regularly to discuss their views and be heard.
To organise whole school and class events
To organise charity days
To make sure our school is a happy and safe place for all of our children
To make sure children have a place to voice their concerns, opinions, and thoughts
To encourage all children in school to suggest ideas and improvements
To ensure any suggestions or concerns are listened to and acted upon.
Our School Council aims to ensure our children have:
A safe, happy and fair learning environment
A forum to voice their concerns and act upon them
A structured opportunity to learn problem-solving skills
An opportunity to take an active role in the organisation of the school
An opportunity to experience a democratic process
Giving Feedback to Pupils: Following the School Council Meeting, School Council Members speak to their class to let them know what is going on and tell the class about the issues being discussed and what is happening next. This will encourage more children to contribute to further meetings, share worries and let members know the things which could be done to improve the school. The school will record School Council Achievements on the school newsletter as and when appropriate.
---
Meet the Councillors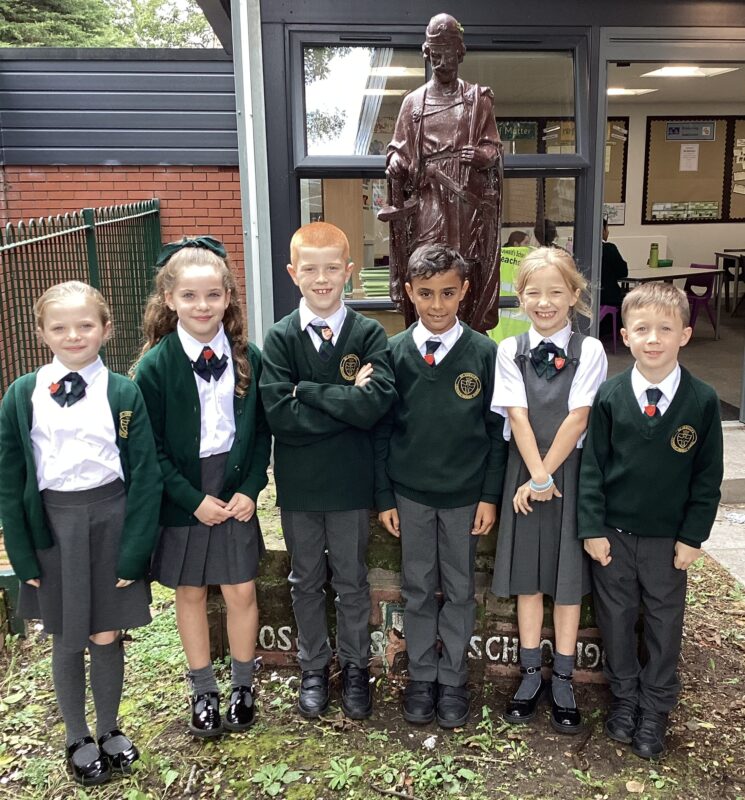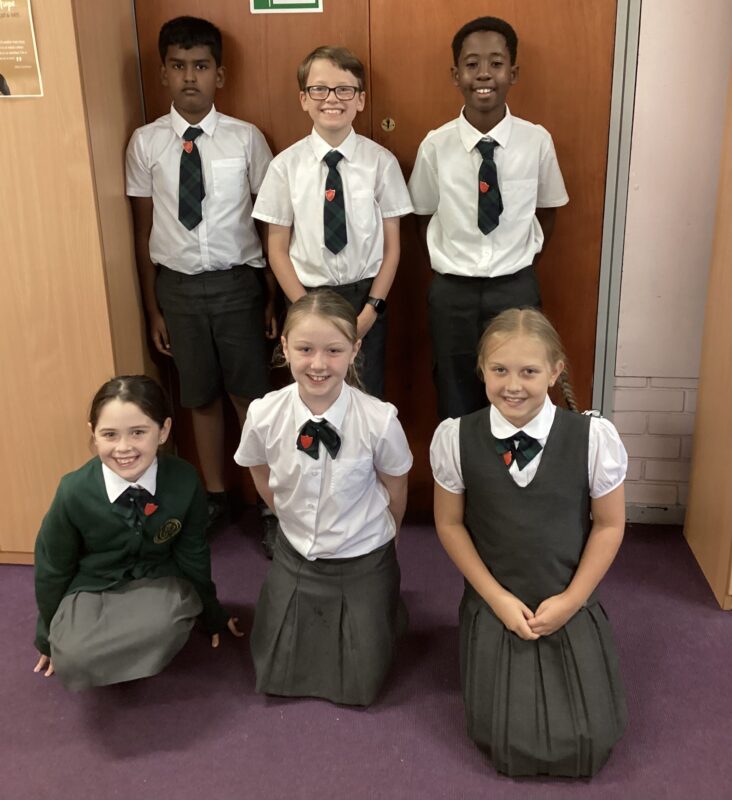 ---
Our Student Council 2023-2024
1JC – Ezra and Chloe
1AJ – Lilly Rose and Grant
1JL – Anamika and Teddy
2PM – Mia and Eliza
2LM – Mason and Fiore
2JH – Matilda and Caelan
3NM – Alex and Cynthia
3SF – Francis and Stevie-Lou
3HH – Jenson and Hayley
4LH – Oliva and Tyler
4EC – Jessica and Thomas
4LD – Scarlett and Mohamed
5AB – Ava and Varun
5RD – Isla and James
5SG – Poppy and Amarildo
6SD – Poppy and Mason
6LD – Chloe and Shika
6JW – Jared and Diya
---
School Parliament
School's Parliament gives the young people of Liverpool an opportunity to have a voice on matters within the city and to be heard by people of influence in the running of the city of Liverpool. Meetings of School's Parliament take place in the Council Chamber of Liverpool Town Hall. Liverpool Schools' Parliament is an official committee of Liverpool City Council and all decisions made by the Parliament are passed on to Liverpool City Council. The Parliament meets as 2 separate Houses. The Upper House represents those young people aged 11-19 and the Lower House represents those aged 7-11.
External Link: https://www.ednet.co/Schools-Parliament
---
Junior Lord Mayor
School's parliament have recently held elections for Junior Lord Mayor. 9 JLM's were chosen out of 39 who gave a speech on why they would make a good JLM. School council voted for Alice to be our candidate, and after giving a fantastic speech in Liverpool Town Hall, was voted to be one of the 9 JLM's this academic year. Congratulations to Alice on your fantastic achievement! We look forward to hearing all about the events you attend during your month as JLM!
---
Eco School's Award
School council are currently working towards the Eco School's Bronze Award. We completed an Eco Review of what we are already doing in our school and what things we need to do more work on. We decided that our three targets would be biodiversity, travel and litter.
---
Litter
On completing our review, we had noticed that litter was a major problem around the school and the local area. We decided that to improve this, we would create posters to reduce littering, complete an audit of available bins in the school and carry out litter picks to improve our local environment.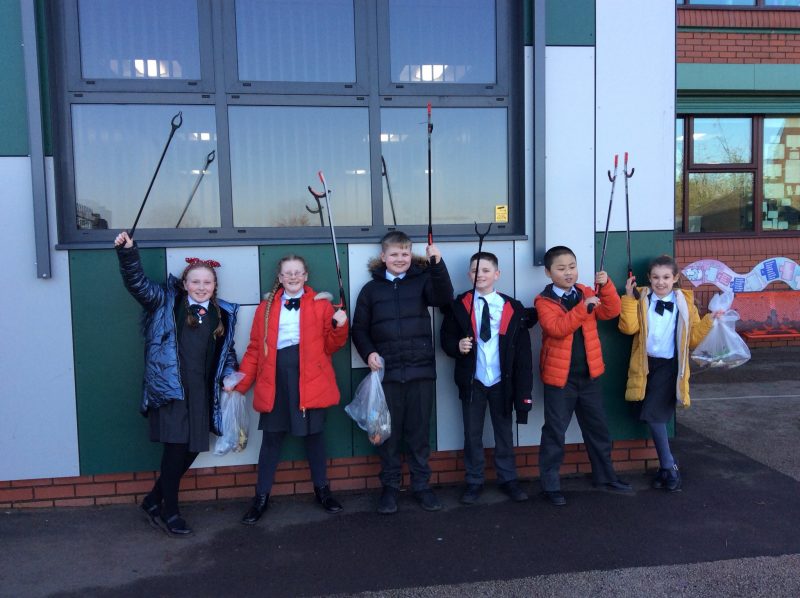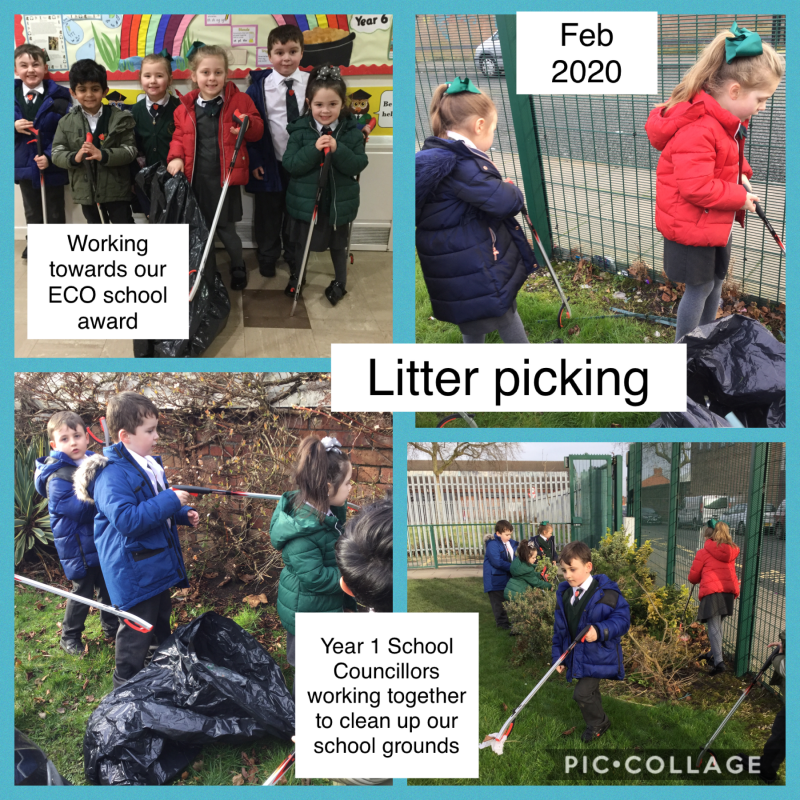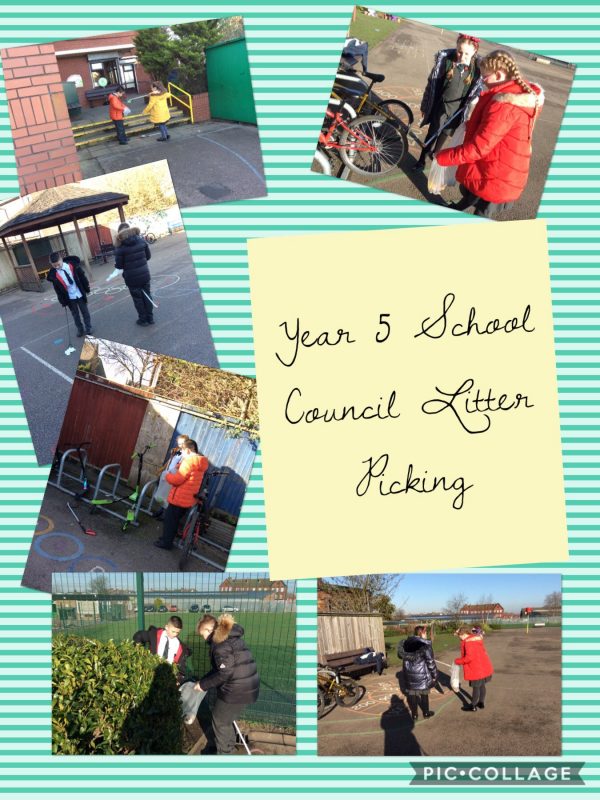 ---
Biodiversity
We discussed what biodiversity is and realised how important it is for children to know about it, but realised that we knew very little. We worked as a group to develop some interesting ideas about how we can learn about biodiversity. We are hoping that each class will be able to learn a bit more about this soon!
We are very lucky that each class is receiving an Earthworks session with Kev the Gardener which will hopefully also improve our knowledge of biodiversity in our school area.
---
Travel
We recognised how our school is located in a very busy area and how this can affect our health and wellbeing. We carried out a travel pupil voice to identify how we travel to school and are going to use this to inform a school travel plan which will hopefully encourage and enable more children to take environmentally friendly modes of transport to school.
---
School Council Summer 2019
This term in the school council we have been focusing on making school meals better, improving after school clubs and working on projects for next year's school council to work on.
We have been meeting with Tracey from Absolute Catering about what we think about our school meals. We have seen that they have improved lots since giving our suggestions and we love the taster sessions and themed meals we have been having! We look forward to continuing to help improve our lunches.
We have looked at the after school clubs we currently have in school and what clubs we would like to see offered. We have suggested that some year groups may like to take part in some clubs, which are for other year groups. We have also suggested some different clubs that are not currently offered.
We have also been thinking about what we like most about being a school councillor. We will be speaking to prospective school councillors to let them know why it is good to be a councillor.
---
School Council Spring 2019
School council met again with Paul from Liverpool City Council, and his colleague Sean, to discuss our recycling efforts as a school. They carried out a survey and we decided together to introduce school wide recycling. It is important for us to remember to put the correct things into our recycling bins and bags! We looked at how we can recycle different things at home, including items which we might not usually see as recyclable. We also made posters for the council to promote recycling across our city. These will be displayed in lots of public places so keep your eyes peeled for them!
Council organised entries for the Holocaust Memorial day to be read at the annual event. The entries were shortlisted to Sharon in year 6 and Emily in year 4. The entries were so good that they were chosen to be entered into an anthology of holocaust memorial poems. Well done to everyone who entered as all poems were of a high standard.
We met with Tracy from Absolute Catering who asked us for our ideas about school dinners. We asked about more theme days as this is what we have really liked having. After this, we had a Spanish theme day which was very popular across the school!
---
February 2019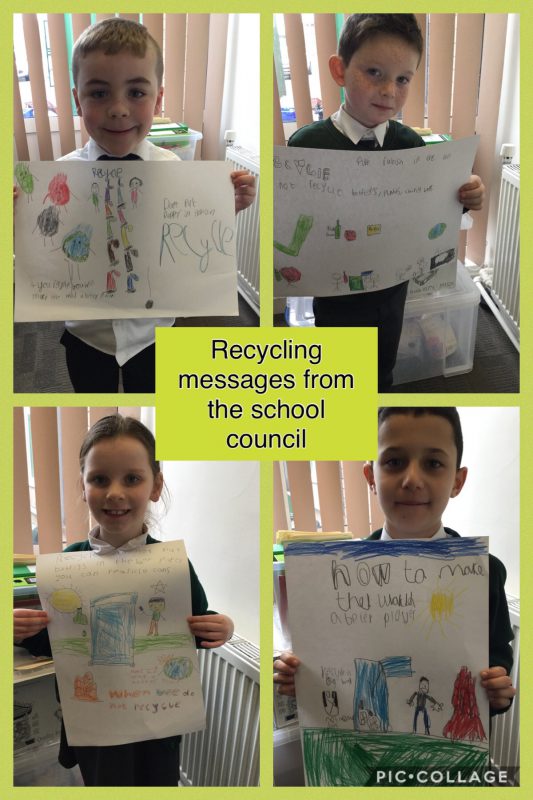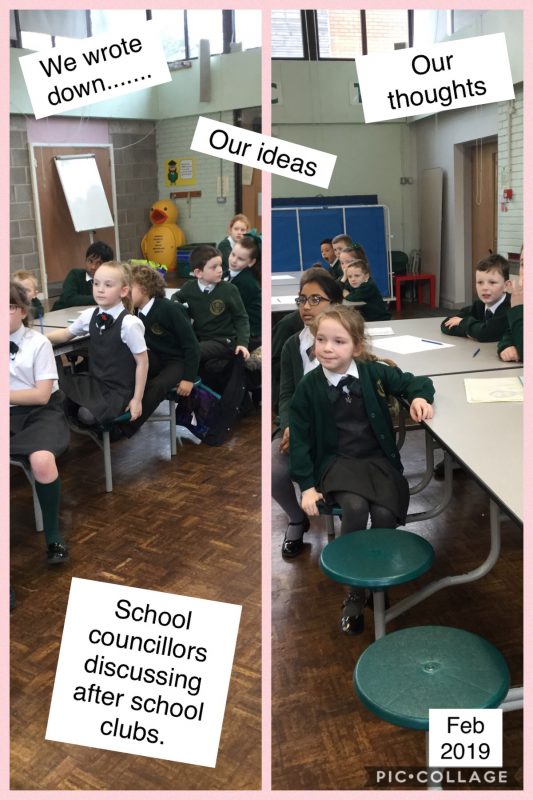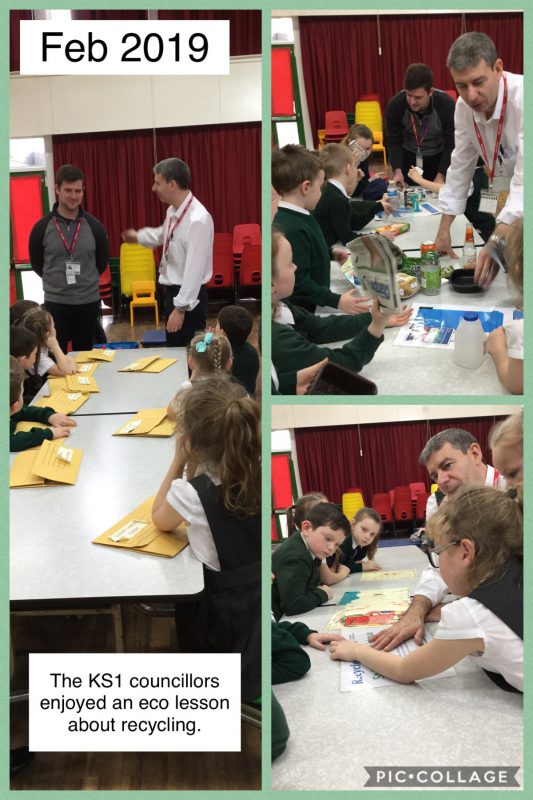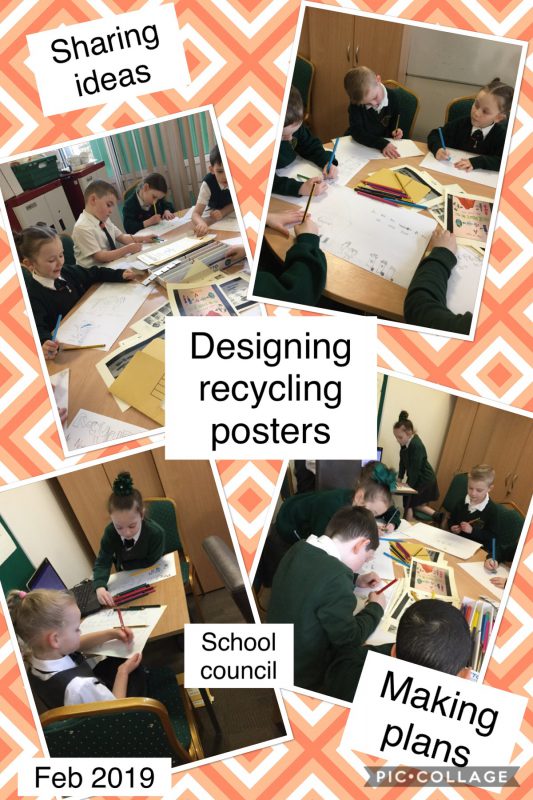 ---
School Parliament – Lower House at Hope University
We went to Liverpool Hope University on Tuesday 20th November for a special School Parliament meeting. At this meeting, we did lots of work on democracy which included debating and voting on 3 subjects. These subjects were:
Should palm oil be banned? This was agreed
Vote 100 – This was agreed
Should children walk to school? – this was disagreed
We enjoyed our day of learning and we can't wait to take part in the next debating event!
By Jess, Andrew, Alice and Harry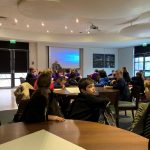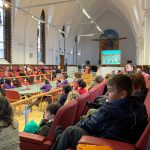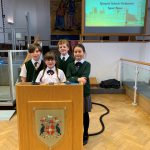 ---
School Council Autumn 2018
We have had a busy start to the 2018 school year! We began our year by electing our chairs, deputies, finance officers and secretary. These are:
Chairs: Abbie and Luke
Deputy: Luke
Finance officers: Alice and Lily
Secretary: Isla
We then met as a joint council to discuss ideas for this year which we could become involved in. We decided to focus on the outdoor environment and recycling for our first projects.
We entered a competition for £500 towards wildlife items for our outdoor area. As a council, we discussed the items to decide which ones that would have the greatest benefit to our school. Our finance officers worked hard to find out which ones we could afford.
We welcomed Paul from Liverpool City Council into school to talk to us about recycling. We all learnt lots! You can recycle paper and cardboard; glass jars and bottles; plastic bottles and tins. Paul showed us 'Recycle Michael' and gave us lots of good ways to help our local environment! We will be happy to see Paul again when he returns in to New Year to help us even more.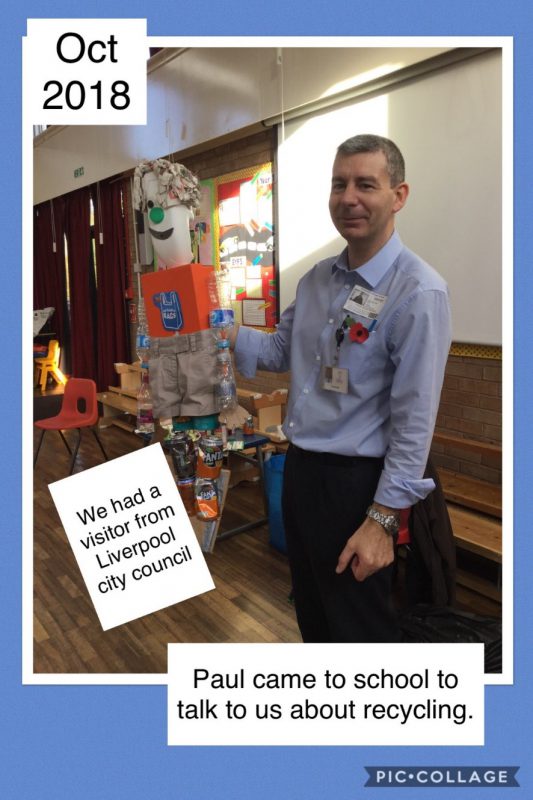 ---
School Council Spring 2018
School council launched a healthy eating and lifestyles poster competition to promote this around school. Children were asked to design a poster to promote this, with the winning entries being put forward to a national competition run by Aldi. We had lots of fantastic entries from across KS2 and we found it really hard to choose one winner! We decided that we would choose one from upper KS2 and one from lower KS2. Our two winners were Summer from 6DN and Abbie from 4LY. Thank you to everyone who entered; your posters were all brilliant and gave us some very hard decisions!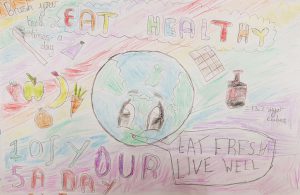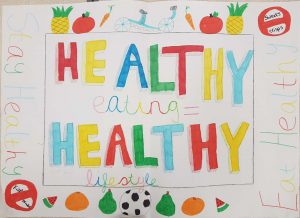 ---
Remembrance Sunday
St Georges Hall
This was my first event as the Junior Lord Mayor. I attended this event with my mum Laura, my dad Nick and my little sister Annabelle. This was a wonderful event and I am very pleased I could attend. We were all honoured we could stand on those steps and I could lay a wreath for all of them people that fought for our country and brought peace to the world. As the two minute silence begun and ended, the poppies fell upon us. We really thought about the people who made our world how it is right now. This was a wonderful event and I especially appreciated laying my wreath with the Lord Mayor. I really enjoyed this event.
---
Transgender Remembrance Day
Town Hall
This event was held at the town hall in the Lord Mayor's lounge and discussion room. In this event, there were many people there, including people who are Transgender. We discussed many things and the main issue was the rights to become Transgender and that they should all be treated equally no matter what they decided to do with their lives. Afterwards, we talked and ate biscuits. We then all went on the stairs with the Transgender flag for photos; two people were then elected to go on the roof and place the flag on the flag pole. I really enjoyed this event as it was very interesting.
---
Winter Survival
Holiday Inn
At this event, the Lord Mayor, Lady Mayoress, the Young Lord Mayor and I walked around all different stalls and each stall had different information on how older people can keep warm and safe in the winter time. There were many free samples of things that can help, for example saving water and saving energy. They had timers for the shower and brushing your teeth, and floats to save water. I learnt many things and it was very helpful and informative.
---
Christmas Fair
St Anne's Stanley Church
I had so much fun at this event and took part in many things such as a raffle and making a Christmas card. My sister and I saw Santa aswell! All of the money we gave in went towards Church Funds. We gave money on things like to see Santa for presents and for much more. This event was enjoyed by my Nan, my little sister and I. Many people were very happy that we could attend, especially the person who was running the whole event!
---
Laying of the VC stone for Stanley Henry Parry Boughey
At this event Mrs Hall and I gathered alongside the Lord Mayor, Lady Mayoress and many more in Princess Park in memory of 2nd Lt Stanley Henry Parry Boughey. Many people who had a relationship of knowing Stanley said a speech and there was a two minute silence in honour of him. It was wonderful to come together one final time in order to pay respect to someone who fought for us and for our country.
I really enjoyed my time as Junior Lord Mayor and would like to thank the Lord Mayor, Lady Mayoress and Jeff for their help and support through the month of November. I learnt lots and will never forget the experiences I was given. Good luck to the other Junior Lord Mayors for this year; you will love it!