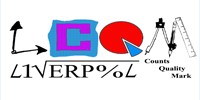 St. Oswald's are delighted to be accepted onto the second cohort of schools in Liverpool, undertaking an exciting project called the Liverpool Counts Quality Mark.
The aim of the project is to promote and develop the philosophy of 'Numeracy For Life' which is all about developing positive attitudes to Maths and recognising that Maths is all around us. It is an essential life skill that we all need.
We will be looking at opportunities to show pupils that numeracy skills can be used consistently every day and in lots of real life situations. We will be showing that Maths is fun and having a 'can do' attitude helps us to always try our best and never give up.
We want everyone in our school community to be involved, with everyone sharing how they have used Maths in their everyday lives.
How have you used Maths today?
If you have used Maths at home or in the real world, follow us on Twitter @StOswaldsPriLiv use #LiverpoolCounts and share your pictures with us – we would love to see them.
If you have any ideas on how you can help us promote 'Maths in the Real World', for example coming in to talk to groups of children about how you use Maths in the workplace, please don't hesitate to get in touch with Mrs. McBrien.