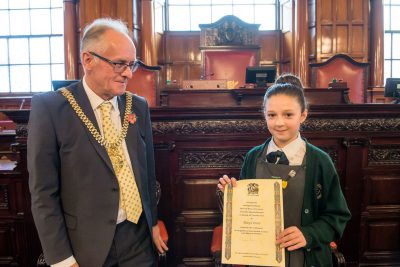 At the beginning of October, Macy from year 6 went up against 36 others to become one of this year's Junior Lord Mayors. She stood in front of over 200 people in the council chambers at Liverpool Town Hall and completed a speech which she had written about what would make her a good Junior Lord Mayor. There were only 11 children chosen to undertake this role, and Macy was voted to be one of them!
On Monday 20th October, Macy attended Liverpool Town Hall for her inauguration ceremony where she met the Lord Mayor, Councillor Malcom Kennedy, and read out a declaration, which she then signed.
Macy is Junior Lord Mayor for November. We look forward to hearing all the amazing things Macy gets up to this month!