Curriculum – Early Years Foundation Stage
Curriculum Overview
Download: Nursery – Medium Term Plan – Myself and My Family – Autumn 1 [PDF]
Download: Reception – Medium Term Plan – Ourselves – Autumn 1 [PDF]
Download: Nursery – Medium Term Plan – What are Mini Beasts? – Summer 1 [PDF]
Download: Nursery – Medium Term Plan – Keeping Fit and Healthy – Summer 2 [PDF]
Download: Reception – Medium Term Plan – Safari – Summer 1 [PDF]
Download: Reception – Medium Term Plan – Under the Sea – Summer 2 [PDF]
Download: Nursery – Medium Term Plan – Winter and Our Senses – Spring 1 [PDF]
Download: Nursery – Medium Term Plan – Spring and New Life – Spring 2 [PDF]
Download: Reception – Medium Term Plan – Space – Spring 1 [PDF]
Download: Reception – Medium Term Plan – Traditional Tales – Spring 2 [PDF]
Download: Nursery – Medium Term Plan – Myself and My Family / Settling In – Autumn 1 [PDF]
Download: Nursery – Medium Term Plan – Autumn and Celebrations – Autumn 2 [PDF]
Download: Reception – Medium Term Plan – Ourselves – Autumn 1 [PDF]
Download: Reception – Medium Term Plan – Toys – Autumn 2 [PDF]
Download: Nursery Long Term Plan – 2020-2021 [PDF]
Download: Reception Long Term Plan – 2020-2021 [PDF]
Download: EYFS Policy 2020-21 [PDF]
---
School vision for the Early Years Foundation Stage
In St Oswald's Catholic Primary School, children feel happy, safe and secure in a stimulating and age appropriate learning environment, where play and learning is combined. Our Foundation Stage environment supports every child's learning, through planned and child-initiated activities that are both challenging and achievable. We treat all children as unique individuals and we support and encourage them to become resilient, capable and confident learners.
A high quality, inclusive education is provided for all pupils, with an emphasis on learning through practical, hands-on experiences. The children learn through purposeful play with a balance of adult led and child initiated activities, with the aim to maintain focus on learning during both. Children learn in whole class and small groups, short adult led activities, and self-chosen activities both indoors and outdoors; the environment is regularly enhanced to reflect new topics and children's own interests and experiences
Both prime and specific areas of learning are delivered through an exciting, engaging and challenging curriculum. It gives children opportunities to access a wide range of experiences, to consolidate skills and develop a deep understanding of the world around them. Communication and language skills are promoted through all areas of learning and by developing meaningful conversations between groups of children, and between adults and children.
All adults are positive and enthusiastic about indoor/outdoor play and will support, scaffold and model learning. They support children on the road to developing greater independence and develop children's thinking and problem solving skills by building on their natural curiosity. All adults continually observe and assess children's learning and development and use this information in discussion with other members of the team to plan relevant, engaging and challenging activities, which meet each child's individual needs.
We value the contribution parents make and build an atmosphere of trust and respect between home and school. As the people who know their children best, parents are encouraged to work in partnership with staff in the learning and development process.
The Early Years Foundation Stage is made up of seven areas of learning:
Personal, social & emotional development
Physical development
Communication and language
Literacy
Mathematics
Understanding of the world
Expressive Arts and Design
The children will have many, wonderful opportunities to discover and explore, enquire and experience in St Oswald's EYFS.
---
Nursery Mouse Club
All children in nursery will be given a mouse when they start with us and mouse will help them to become ready for reception. Mouse will live at home with the children and only needs to come into nursery when there is a mouse club event on, which we will tell you about in advance. Mouse home learning challenges will be sent out from time to time throughout the year and families are asked to send in photos or notes telling us about what the children have done at home with mouse to work on such challenges. From time to time we may also ask you to send in the mouse journals showing anything you have been doing at home with mouse. Throughout the year there will be mouse club events (stay and play) that children and their families can attend with mouse. For more information on mouse club and current stay and play dates, please see our noticeboard in the nursery cloakroom area or ask one of the nursery team.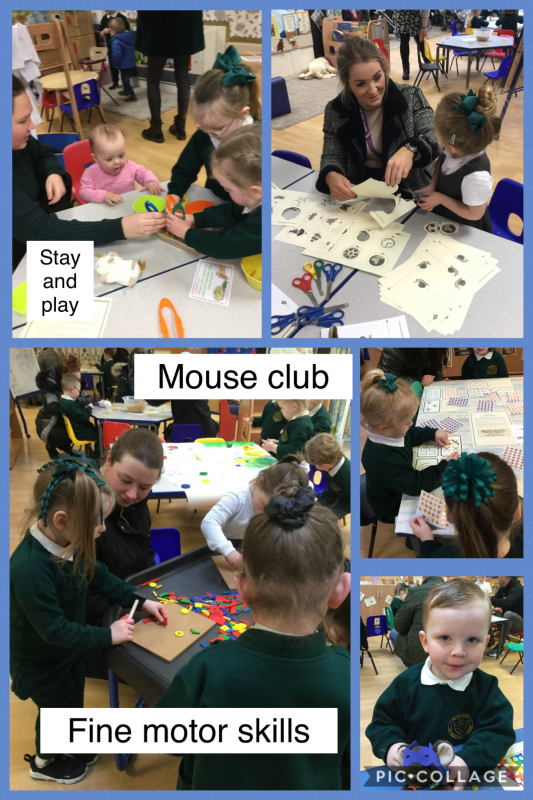 ---
Reading in Nursery
Early reading skills are developed in nursery through the learning of phase one letters and sounds phonics skills. This ranges from listening to sounds in the environment, learning about rhymes to beginning to hear sounds in words. To support this at home we ask that children are regularly read to. The importance of bedtime stories is paramount to children's mastery of language and literacy skills. If you would like to borrow a book from our reading area please feel free to do this and swap it for another when you have finished with it. A lovely range of story sacks can also be borrowed from our lending library in nursery. During the summer term before your child starts in reception, they will bring home a book bag each week with a reading book. These early readers are wordless books designed to encourage the children to make up their own stories based on the pictures they see in the book. Please talk to the children about their book as you "read" it together. There is a guidance page in each book with suggested discussion points for that book. Please return the books and bags each Friday to be changed.
---
Nursery Lending Library
Every Thursday our lending library is open in nursery from 8:30-9:00am and again from 3:15-3:45pm. Here you can borrow a range of resources from games to story sacks for you to enjoy at home with your family.
---
Homework in Reception
Each Monday children will be given a piece of homework to complete to consolidate the learning from that week. We hope parents will encourage children to complete homework in a calm and quiet environment to help with focus and concentration and where possible ask children to complete tasks as independently as they can.
Homework is due back in on a Friday. Please feel free to hand in homework early to the class TA or teacher.
Reading books should be taken home and brought in daily to school. Each child will be read with at least once a week and the class TA will update and change books and word cards.
---
Additional Information for Parents
Download: Foundation Stage Information Booklet [PDF]
Download: Supporting Reading at Home (Reception) [PDF]
Download: Reception Homework Guide [PDF]
Parents and carers of children in the Early Years Foundation Stage (Nursery and Reception) can access useful information regarding their children's learning and development from the below websites.
Download: 4children – What to expect, when? – Parents Guide [PDF]
External Link: Foundation Years
External Link: I CAN
We also have listed some useful websites you may wish to visit with your child at home to further support their education. If you have some favourites not listed, please speak to a member of staff so we can add to the list and share with other families.
External Link: PhonicsPlay
External Link: Phoneme Pop Game
External Link: CBeebies
External Link: CBeebies Numberblocks
External Link: Oxford Owl
External Link: Fun with Spot
External Link: BBC School Radio – Nursery Songs
External Link: Crickweb Early Years
---
Nursery – Working Scientifically Day 2021